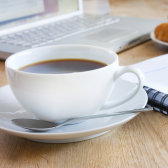 Bank Policies
How does your bank use the Personal Information you Provide On-line?
Our bank has the highest regard for the privacy of its customers. As a result, we safeguard the privacy of users of our On-line services, just as we do throughout the rest of our businesses.
Our bank will use Personal Information, as appropriate in the normal course of our business, to provide you with the products and services you have requested. We will also use Personal Information to identify you, to communicate with you, to help us respond to your questions and to understand which our bank's products and services will best meet your needs.
Do you sell Personal Information transmitted On-line to people outside of your bank?
Our bank will not sell Personal Information to a third party for the purpose of solicitation or provide Personal Information to a third party for its own, independent use. We may, however, share Personal Information with our business partners in order to deliver products and services, which you have requested, and in order to communicate with you about our bank, its products and its services.
Can I be taken off any solicitation lists?
Sometimes we send our customers information about products and services that we believe will be interesting to them. If you do not wish to receive this information, please call us at (662) 234-6668.
Can I check my Personal Information to see if it is correct?
If you have any reason to believe that your Personal Information retained at our bank is incorrect, please call us at (662) 234-6668. We will investigate the problem and, if appropriate, update the bank's records.
When is Personal Information Collected On-line?
On-line Banking and Bill Pay
When you bank On-line with our bank or use our On-line Bill Pay service, our bank and our business partners who help us deliver these services to you will have access to your Personal Information. This information is retained on either our bank's or our partners' systems in order to provide you with the services you have requested.
Applications
When you apply On-line for products or services, or when you enroll in On-line banking, you will be asked for Personal Information in order to process your application. The bank and its business who help provide you with the product or service may retain this information.
Planners and Calculators
When you use various calculators, planners or questionnaires on our web site, you may be asked for Personal Information in order to complete the requested analysis or evaluation. The provider of the calculator, planner or questionnaire may retain this information.
E-mail
When you send us e-mail, we will retain the content of the e-mail, your e-mail address, and our response in order to handle any follow-up questions you may have.
For Mobile
We may also collect information related to:
NOTICE OF EXPIRATION OF THE TEMPORARY FULL FDIC INSURANCE COVERAGE FOR NONINTEREST-BEARING TRANSACTION ACCOUNTS:
By operation of federal law, beginning January 1, 2013, funds deposited in a noninterest-bearing transaction account (including an Interest on Lawyer Trust Account) no longer will receive unlimited deposit insurance coverage by the Federal Deposit Insurance Corporation (FDIC). Beginning January 1, 2013, all of a depositor's accounts at an insured depository institution, including all noninterest-bearing transaction accounts, will be insured by the FDIC up to the standard maximum deposit insurance amount ($250,000), for each deposit insurance ownership category.
For more information about temporary FDIC insurance coverage of transaction accounts, visit www.fdic.gov.